---
A Celebration of Life for Curt Johnston
---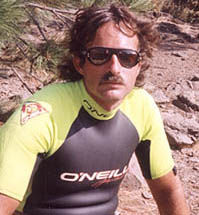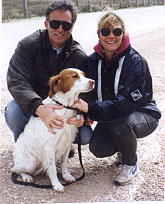 ---
A celebration of life will be held at 7:00 pm on Wednesday, December 27, 2000 at Katherine Abbott Park in Mahtomedi (directions below), for Curt Johnston, who died on December 9, 2000.
Curt was born on August 2, 1950 in Chicago, IL and moved to Minnesota in 1973, married his wife Anita in 1974, and worked first in Special Education for St. Paul Schools, and then as a computer scientist at Northwest Airlines, Unisys and Cray Research. He also coached AAU swimming for many years. Two years ago, he fulfilled his dream (and that of other Minnesota windsurfers) to move to the Columbia River Gorge in the Cascade Mountains where the wind always blows and Curt was always the first one on the water every morning.
Curt is preceded in death by his father, Roland. Survivors include Anita, his wife of 26 years, of White Salmon, WA; his mother, Evelyn and his brother, Craig of Chicago, his niece, Laura Pejsa and his nephew, Mathew Pejsa, and many other relatives and friends.
Curt valued education. Memorials in his name may be made to a scholarship or educational charity of your choice.
---
Directions to the Memorial Service:
Coming from Mpls/St.Paul
1-694E to exit 120 or Century Ave - go up ramp and take a left (north)
At second traffic light (1/8 mile) - go right at Long Lake Rd.
Take Long Lake Road about a mile.
At stop sign go left on Lincolntown Ave,
Go about 1/8 mile - Katherine Abbott Park is on the right
(Watch for small brown signs to park)
Parking is limited so please try to carpool
Coming from Mahtomedi or White Bear Area
From Wildwood Corner (intersection of MN244/Cty E and Century Ave (MN 120)
Go south on Century Ave-past Century College to Long Lake Rd (just before I-694)
Turn left on Long Lake Road
Take Long Lake Road about a mile
At stop sign go left on Lincolntown Ave.
Go about 1/8 mile - Katherine Abbott Park is on the right.
(Watch for small brown signs to park)
Parking is limited so please try to carpool.
---
I want to express my deepest appreciation to so many people. I have been truly blessed in this world to be surrounded by such a wide, deep, circle of caring people; incredibly strong, resourceful and resilient people, both out here in our new home and back in Minnesota and Wisconsin and Texas. Thank you all for being there for me.
Thank you for the heartfelt emails, phone calls and cards. Thank you to those who listened while I talked. Thank you to my Minnesota friends who are arranging everything for me back there, cacooning me in the knowledge and security that all is well. Thank you to my steadfast friends out here who took turns staying with me round the clock in those first dark days. To all of you, I am eternally grateful. It amazes me that I have been so truly blessed
People ask what my plans are. For the winter, I will live in Hood River and delay major decisions for a while. I will likely return to our home in the spring. I will DEFINITELY stay in the Gorge. As much as I miss my friends and family in Minnesota, both Curt and I LOVED it out here and I still do.
As the days pass, reality sets in, and aloneness can attack me fiercely. I miss Curt so very much. Even after 26 years of marriage, he never ceased to keep me interested, entertained and laughing. As time passes, I would so enjoy and appreciate continued contact with you, my treasured friends and family. Any method works for me: emails, phone calls, snail mail, or drop-in's (for my local friends). And once again, to be repeated many times over, thank you from the bottom of my heart.
The winter solstice on December 21 is a symbol to me that the sun will indeed return. Slowly, day by day, the nights will become shorter and the hours of daylight will lengthen. I wish you days of sunshine and a blessed holiday season.
Anita Johnston
PO Box 338
White Salmon, WA 98672
541-386-8774
anitajj@yahoo.com